Get ready to elevate your style with a touch of elegance and a dash of brilliance. NeoMetal has just released some stunning new additions that you're sure to love.
Introducing: Two fresh gemstone cutss. The pear and the trillion.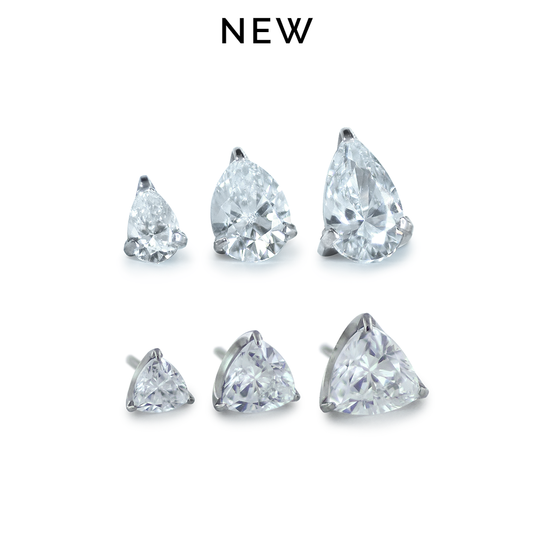 Why we love it...
Unmatched Elegance with Swarovski Crystals
Swarovski crystals are renowned for their exceptional quality and  brilliance, and NeoMetal has masterfully incorporated them into their latest pieces.
Versatile and Easy to Wear
One of the standout features of all NeoMetal jewelry is its ease of use. The threadless design ensures that you can effortlessly change your jewelry whenever you please, without the need for special tools or visits to a professional piercer. These tops and others are compatible with NeoMetal threadless posts and can be securely interchanged to suit your style and mood.
Quality You Can Trust
NeoMetal is well-known for their dedication to precision and excellence, ensuring that you not only receive visually stunning products- but ones that are designed to withstand the test of time. NeoMetal jewelry is crafted using the highest quality materials available. The vast majority of their jewelry is crafted from ASTM F-136 certified implant-grade titanium, a hypoallergenic and biocompatible material. Every gem is crimp-set into the jewelry setting; no glues are used, ensuring the most stunning sparkle.
Wrap-Up
NeoMetal's latest Trillion and Pear Cut Prongs are gorgeous. Ideal for both fresh and healed piercings, they are a perfect addition to your curated ear, offering a simple yet dazzling touch.
These pieces and more are coming soon to your local Pi.